Summary: In this article, you will learn the best investments in 2020. Topics include: how to invest in 2020, trends for investors to know, the best stock market investments, income-producing investments and the best industries to invest in 2020. (Please Note: The world has changed significantly since the Coronavirus Pandemic began. If you are looking for investment advice that is specific to what's happening right now, check out this new article: 7 Best Places To Invest Money Right Now (In the Coronavirus Age!!)
Introduction: The Best Investments for 2020
The best investments in 2020 are:
CD's
Money Market Accounts
REITs
Real Estate
Treasury Securities
Municipal Bond Funds
Government Bond Funds
Growth Stocks & Growth Funds
S&P 500 Index Fund
NASDAQ 100 Index Fund
Dividend-Paying Stocks
High-Yield Savings Account
Industry-Specific Index Fund
The best industries to invest in 2020:
Biotechnology
Marijuana
Artificial Intelligence
Oil and Gas Exploration
Real Estate
---
How to Invest in 2020
Before we jump into all the details of the best investments for 2020, there are two important philosophies to keep in mind. First, the best investment strategy is a diverse one. Creating a broadly diversified portfolio can lower your risk of loss. A portfolio should include a mix of stocks, bonds, ETFs and cash across different industries. If one investment dips or an entire industry takes a nosedive, your whole portfolio won't be affected and the loss won't break your bank. 
Second, make and stick to an automatic investment plan. Many investors make emotionally-driven decisions and pull their money out during a down market. Only to watch that market go back up and balance out. Staying in your investments for the long haul is usually the safest and best strategy.
---
2020 Trends for Investors to Know
The top trends for investors to know in 2020 include dwindling recession fears, a rise in earnings, a climbing stock market, the up-and-coming election, and a comeback of international markets.
Recession Fears Dwindle
Widespread fears about a possible recession in 2020 have dwindled as the overall U.S. economy is expected to grow 1.8% in 2020, according to Kiplinger, compared to 2.3% in 2019 and 2.9% in 2018. Spending from businesses has slowed due to Brexit, the presidential election and and unknowns tied to a trade deal with China. However, with unemployment at record lows, consumer spending remains strong.
Earnings Pick Up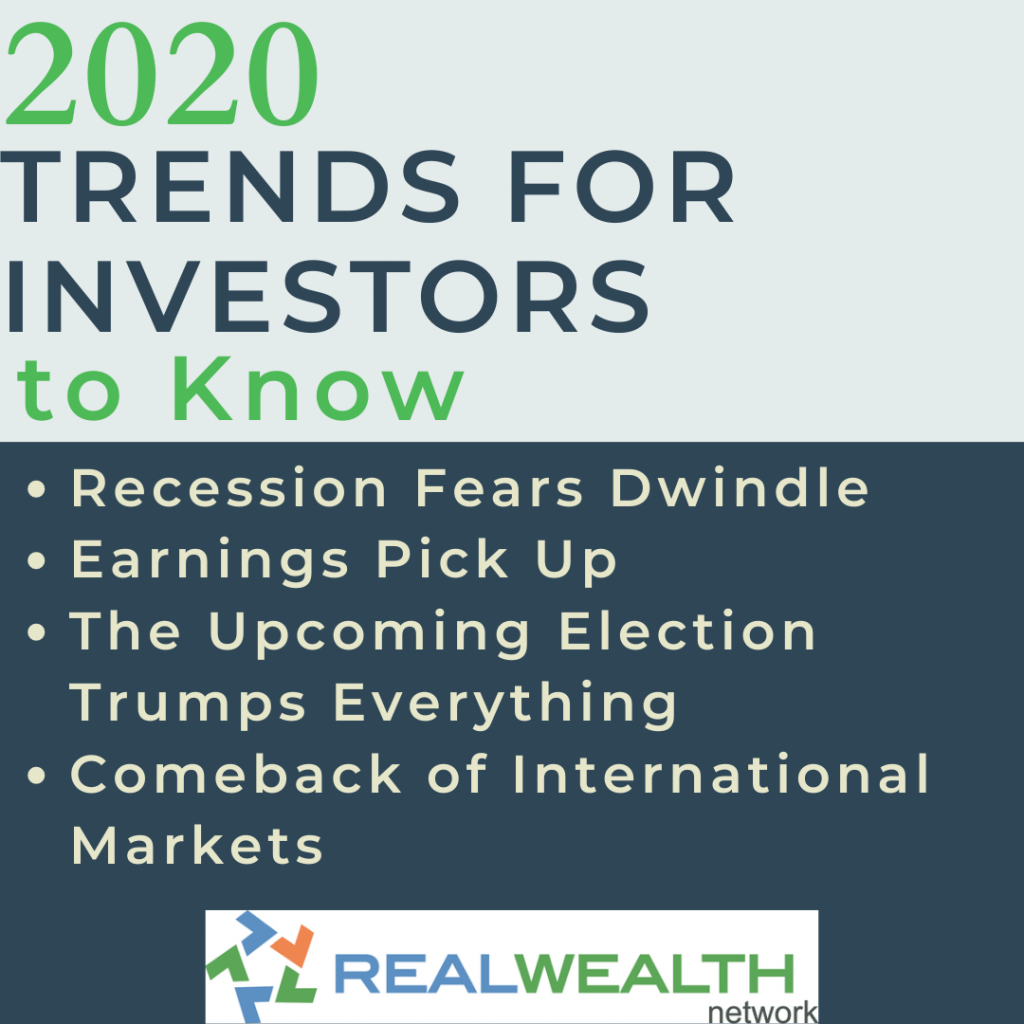 Corporate earnings in 2019 were pretty abysmal, with a profit growth of just 1.3%. However, analysts predict that earnings are picking up and expect earnings to grow by 10% in 2020. This prediction may seem a bit high with more conservative analysts projecting 5% or 6%.
Opposite of 2019 trends, the sectors expected to see strong profit growth in 2020 are energy, industrials and materials.
The Election Trumps Everything
With the presidential election set to be determined before the end of 2020, most investors are thinking about how to best prepare for any result. Historically, the stock market has produced an average of 6% during election years. But returns have varied between a low of 4% to a high of 14% annualized.
Additionally, there are sectors that are most impacted by elections and policy changes. Those investing in sectors such as health care, energy and financials should pay close attention to how the results of this year's presidential election could affect their investments.
Comeback of International Markets
Although there remains to be uncertainties in the overseas economies and international markets in the coming year, the forecast for global economic growth has improved. J.P. Morgan is predicting the global GDP growth (2.5%) to outpace the GDP growth in the U.S. (1.7%). Up-and-coming markets may outperform more developed markets internationally in 2020 (assuming the trade talks between the U.S. and China go well).
---
Best Stock Market Investments in 2020
While the stock market is producing more modest returns than in previous years, it still continues to rise. This is pretty remarkable considering slower growth, fears of a recession and uncertainty with tariffs. Experts expect stock market earnings to grow to around 10% in 2020.
Here are the 11 best stock market investments in 2020:
---
Best Income-Producing Investments in 2020
Here's a list of some of the best income-producing investments in 2020:
Energy Pipelines
Real Estate Investment Trusts
Overseas Dividend Stocks
U.S. Telecom Stocks
Convertibles
Junk Bonds
Tax-Exempt Muni Bonds
Taxable Muni Bonds
Electric Utilities
TIPS
Energy Pipelines
Energy pipeline operators are an undervalued market, but produce some of the highest returns. Along with appreciation potential, investors can expect dividends between 5% to 9%. Because fewer people are investing in this sector, shares can be bought on the cheap and returns continue to rank among the best.
According to Rob Thummel, a portfolio manager and investor in this sector, "The U.S. needs energy infrastructure, and global energy demand should continue to grow; the sector is undervalued."
Energy Pipeline Investments to Consider:
Real Estate Investment Trusts
A Real Estate Investment Trust or REI is a company that owns income-producing real estate. Types of REITs can include commercial, office, apartments, warehouses, retail, hospitals and hotels. Individuals can buy into an investment trust as part of a larger real estate investment. Some types of REITs are performing better than others, with industrial and apartment REITs producing the best dividend payouts last year.
REIT Investments to Consider:
Overseas Dividend Stocks
Foreign stocks have been producing higher dividend returns than U.S. stocks. If the value of the dollar continues to weaken, international investments should be a good bet. Europe's two biggest oil companies are yielding solid returns, as well as Telecom investments in Canada and Asia.
Overseas Dividend Stocks to Consider:
Royal Dutch Shell (RDS.B): $61 per share, yield: over 6%
BP (BP): $39 pre share, yield: over 6%
China Mobile (CHL): $41 per share, yield: 4%
BCE (BCE): $45 per share, yield: 5%
U.S. Telecom Stocks
The U.S. telecom sector comes with higher yields and lower valuations. Most of these stocks are inexpensive to buy compared to the potential earnings ratio. Even though we saw lower returns in this sector in 2019 than expected, the outlook of U.S. telecom stocks for 2020 looks bright.
U.S. Telecom Stocks to Consider:
Verizon Communications (VZ): $61 per share, yield: 4%
AT&T (T): $39 per share, yield: 5%
Comcast (CMCSA): $45 per share, yield: 2% (projected growth for 2020 is 14 times 2019)
Convertibles
Often forgotten convertibles are a hybrid of stocks and bonds. Convertibles are designed to give investors the upside of stocks and the protection of bonds. There are two common types of convertibles: traditional bonds with a fixed maturity date and "mandatory" convertibles that are equity substitutes.
Traditional convertibles come with more protection, like bonds. Tech and biotech companies also offer convertibles because borrowing costs are so low. Mandatory convertibles often produce higher yields than traditional. The electric utilities sector offers mandatory convertibles to investors, with a typical maturity date of three years.
Convertible Investments to Consider:
Tesla (TSLA): yield: 2%
DTE Energy (DTE): yield: 6.25% by 2022
American Electric Power (AEP): yield: 6.125% by 2022
Junk Bonds
Appropriately named "junk" bonds or high-yield bonds, are rated below investment grade. They come with a greater risk of default, but usually pay more than above investment grade bonds, which is how junk bonds attract investors.
In 2019, junk bonds produced one of the highest yield returns in a decade. There is such a thing as "better quality" junk bonds, which may give lower returns but less risk of default.
Junk Bonds to consider:
Vanguard High-Yield Corporate fund (VWEHX): 16% growth in 2019
iShares iBoxx High Yield Corporate (HYG): yield: 4.3%
SPDR Bloomberg Barclays High Yield (JNK): yield: 5%
Muni Bonds – Tax Exempt & Taxable
Municipal bonds were a bargain in 2019, with investors enjoying returns between 6% and 11%. However, stock market experts don't expect to see these high returns in 2020. Investors should expect a 2% to 3% return on muni bonds this year. While there are opportunities for decent returns, 2020 may not be the year for muni bonds to make a big statement.
Electric Utilities
In the past decade, the electric utilities sector has amazingly delivered a total annualized return of 11.6%. In the past five years, returns were a healthy 10%. But don't get too excited about these numbers. Following a 25% gain during 2019, the dividend yield dropped to 3.1%. Investors shouldn't expect to see great returns in the electric utilities sector in 2020.
TIPS
Government issued treasuries are one of the safest investments out there. But the returns are a measly 1.5%, which is below the current 2% inflation rate. On TIPS or treasury inflation-protected securities, the average return is 2.3% on a 30-year bond. While this return is pretty unremarkable, TIPS protect against rising inflation and can be purchased at a good price.
TIPS to consider:
iShares TIPS Bond (TIP)
iShares Short Treasury (SHV)
iShares 20+ Year Treasury Bond (TLT)
E-Commerce
This holiday shopping season there were record online sales, with overall holiday retail sales (excluding autos) growing by 3.4% compared to last year. 15% of total retail sales came from online shoppers, with a 19% increase from 2018.
---
The 5 Best Industries for Investors in 2020
Since the stock market continues to trend upward, many investors are choosing to put their money there. But some investors may also want to invest in specific industries. There are a number of industries with a high probability of growth in 2020. In the event the stock market declines, these industries will likely be growing. A recent report by fidelity showed that health care, utilities, real estate and consumer staples were industries set to continue their expansion in 2020. The following are the 5 best industries for investors this year:
Biotech
Marijuana
Artificial intelligence
Oil and gas exploration
Real estate investment trusts
Biotechnology
Biotechnology is an industry that is focused on the manipulation of living organisms to create commercial products. Wait what? In simpler terms, the biotech industry makes products for four major industries: 1) healthcare (medical), 2) crop production and agriculture, 3) non-food (industrial) uses of crops and other products (biodegradable plastics, vegetable oil, biofuels), and 4) environmental uses.
Because biotech makes products across four huge industries, many of which are growing, it's not hard to see why people are looking to invest here in 2020.
Biotech Investments to Consider:
Marijuana
Cannabidiol or CBD was a popular trend last year and will continue in 2020. CBD is a compound found in hemp plants and is now legal in all 50 U.S. states. According to a report by Brightfield Group, since the nationwide legalization the market has grown 132%, and is projected to hit $22 billion by 2022.
Cannabis Investments to Consider:
Artificial Intelligence (AI)
One of the best investments for 2020 is technology, in artificial intelligence. Can you say Tesla? I don't know about you, but I am mind blown by new cars coming out that drive themselves. The truth is, we're only scratching the surface when it comes to the possibilities of AI.
Market experts predict the main drivers to be in 5G and cloud technologies. With technology continually changing and innovating, and a heated race between the U.S. and China in AI, this industry should remain a strong investment option in 2020.
AI Investments to Consider:
Oil & Gas Exploration
It's always a good sign when people within oil and gas industries are investing in their own industries. That's because these people usually have the best idea of future growth potential. Shares in energy companies, that have previously been low-value, are bouncing back and this trend is expected to continue in 2020.
Oil & Gas Investments to Consider:
Real Estate Investment Trusts
Mortgage interest rates remain extremely low, making the real estate industry an appealing place to invest. Because borrowing money is so cheap right now, more people are choosing to buy real estate.
Real Estate Investment Trusts provide an easy way for people to invest in real estate, without having to buy a property themselves. Instead, you buy into a trust with other investors to fund a real estate project.
Co-founder of Fundamental Income in Phoenix, Chris Burbach recommends investing in net-lease REITs. Net-lease means a property is leased to single tenants, who pay rent and property expenses. He says they deliver higher dividend yields and better growth than typical REITs. Investors can also expect rent increases which will grow cash flow making REITs one of the best investments in 2020.
REITs to Consider:
---
Environmental, Social & Governance Investing
Environmental, social and governance or ESG refers to investments that seek both financial return and social/environmental good to bring about social change. This type of investing supports sustainable, responsible and impact investing. Between 2005 and 2018, there's been a 6,417% increase in ESG-based investing and the upward trend is expected to continue in 2020.
Examples of ESG or Impact Investments:
---
Conclusion
Understanding this year's trends should make it easier to decide on the best investments in 2020. Whether you're a stock market junky, looking for income-producing investments or interested in expanding into different sectors, smart investors should perform extensive due diligence with the help of a trusted financial advisor. With so many great opportunities out there, it's an exciting time to invest your money and continue your path to financial independence.
---
Sources: